#1 sidewalk cafe & branded barrier company in the United states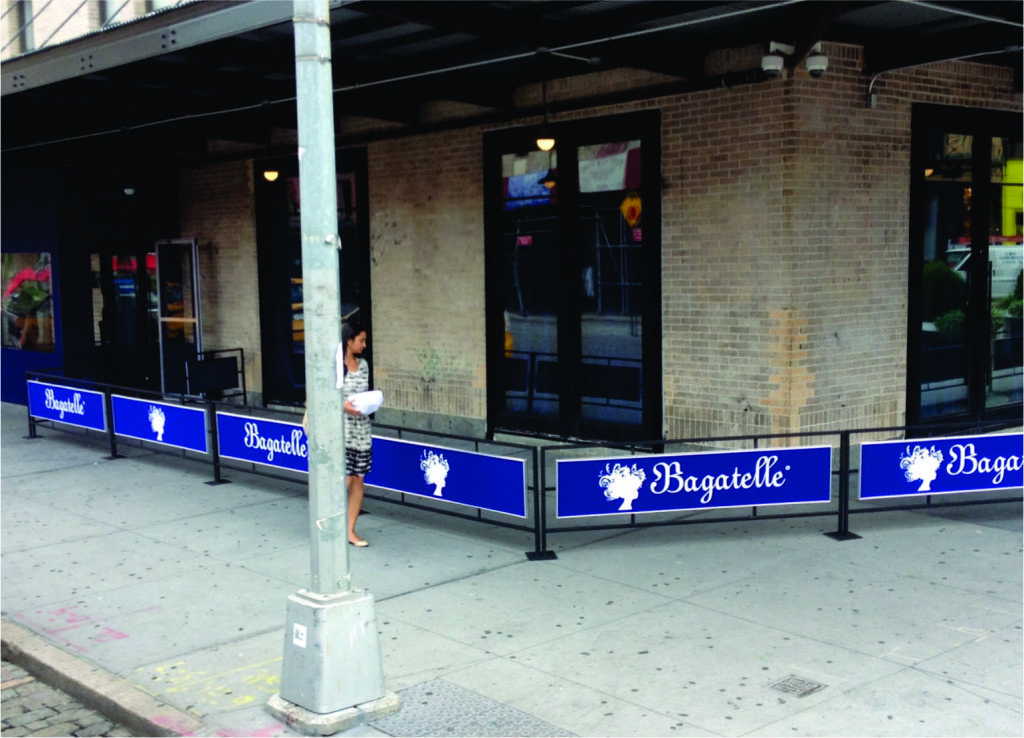 SIDEWALK BARRIERS FOR EVENTS
Sidewalk Barricades and Barriers for your Event
Branded barriers are the perfect way to manage large numbers of people lining the streets or fields of your event space, to sell valuable advertising space, and to provide crowd control where large numbers of people are expected.  Keep your even orderly and looking professional with our high-quality free-standing barriers.  From the entrance to the  perimeter to restricted access areas, our movable barricades can create help you keep your event organized, safe, and looking professional. 
Create an orderly entrance queue for your event with parallel barriers
By setting up barricades in parallel to one another, you can create an entrance queue that will control the lines of crowds waiting to enter your space.  While some barriers may be easy to duck under and even ignore, or they may look uninviting, our barriers look welcoming and will keep people from going around, through, under, or over them to skip the line.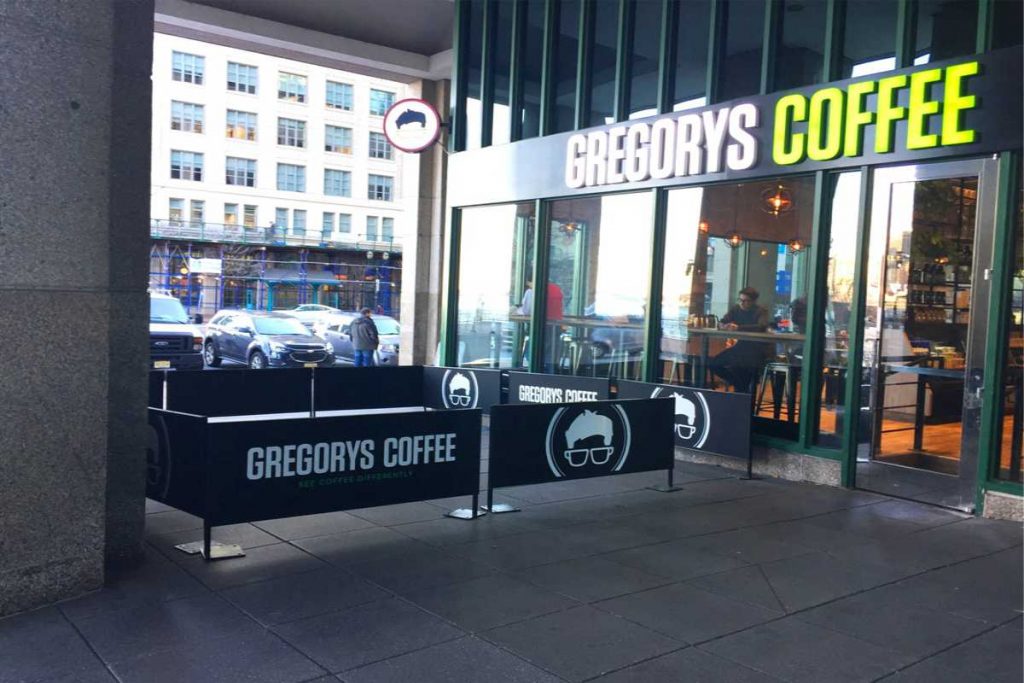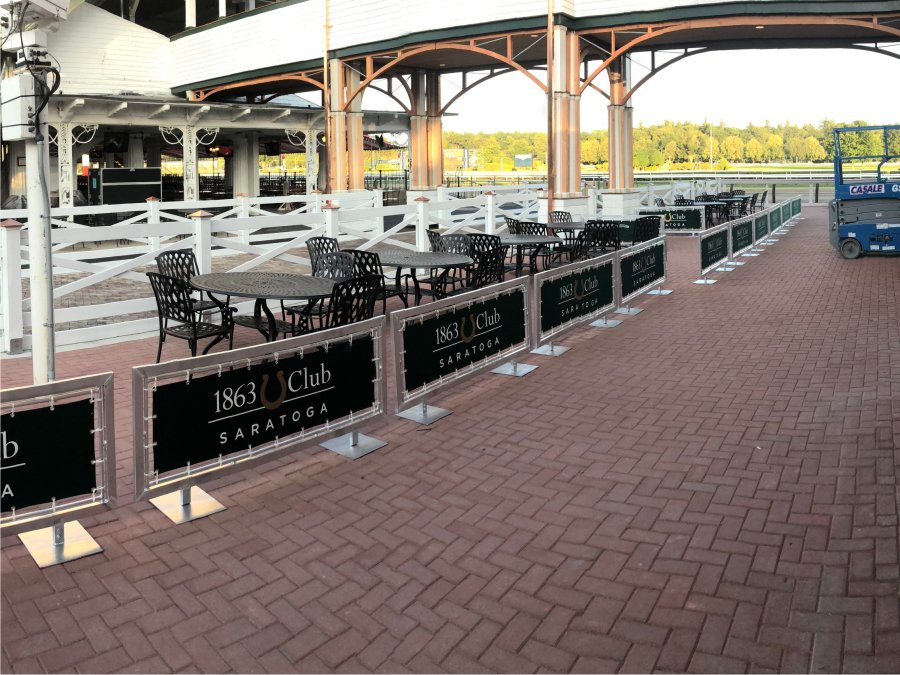 Set a perimeter around the whole event space or define specific areas by placing crowd control event barricades where you need them
Keeping your patrons inside the event space is paramount to keeping them safe.  A proper perimeter can prevent unwanted guests who fail to pass security checks from entering.  It can also keep people who are supposed to be there from wandering off and getting lost at large events.  Within the perimeter, you may also want to define smaller areas such as age-restricted drinking areas.  Open-air events can be difficult to monitor underage drinking so keeping a controlled area where staff can monitor and check IDs can be important to keeping your license and not getting hefty fines. 
Define pedestrian areas vs. vehicle areas and funnel people to clearly marked road crossings
If cars and work vehicles are near or around your event space, you will need to define the roads clearly and create safe places for crossing them. Our barriers attach together to create a temporary fence that keeps people from walking through until you define the breaking point where they may exit and cross a road or parking area.  This limits the places where pedestrians are in the roads and makes it easier for those in vehicles to see them.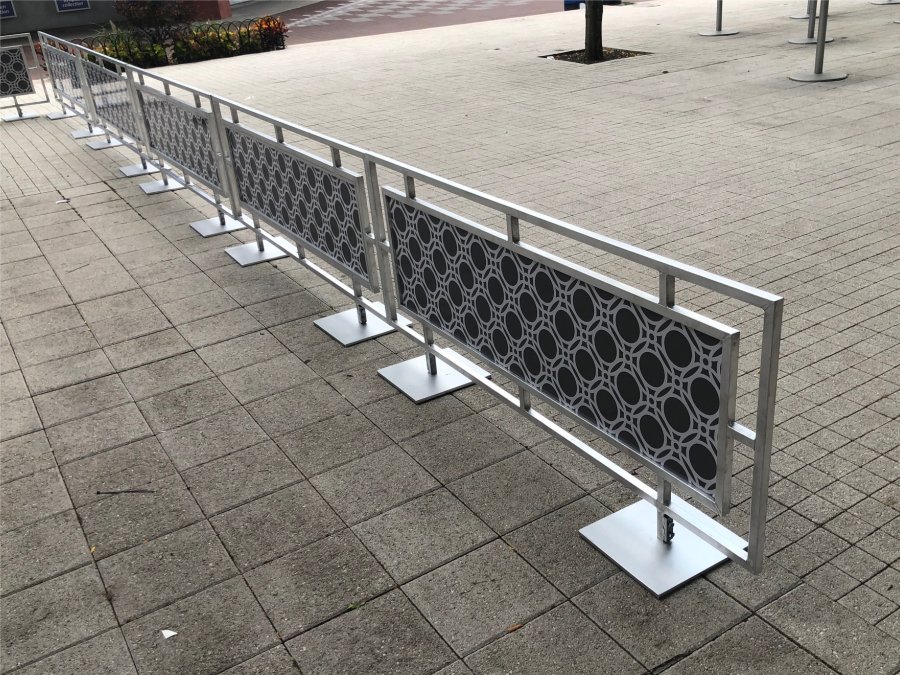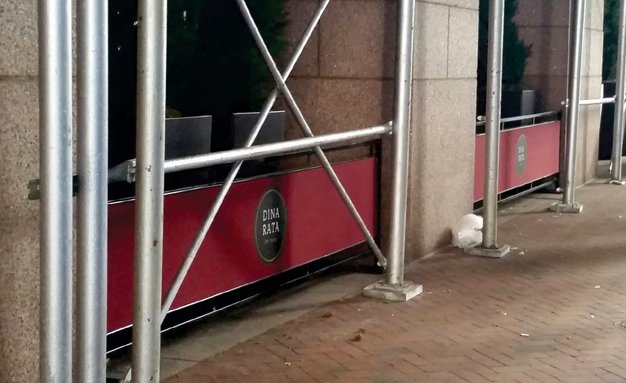 Restrict Access to certain areas with event barricades
Whether it's Backstage, a staff-only area, security headquarters, or the management business office where money is handled, there are certain to be places where you don't want your guests to travel.  Strategically place event barricades in front while keeping the look of your event professional and inviting. 
Create large advertising spaces that you can sell to vendors
Your event sponsors and vendors will love a personalized look with their name and logo on the side of your barricades.  Charging sponsors and vendors for advertising space is a great way to make these barricades more cost-effective for your event.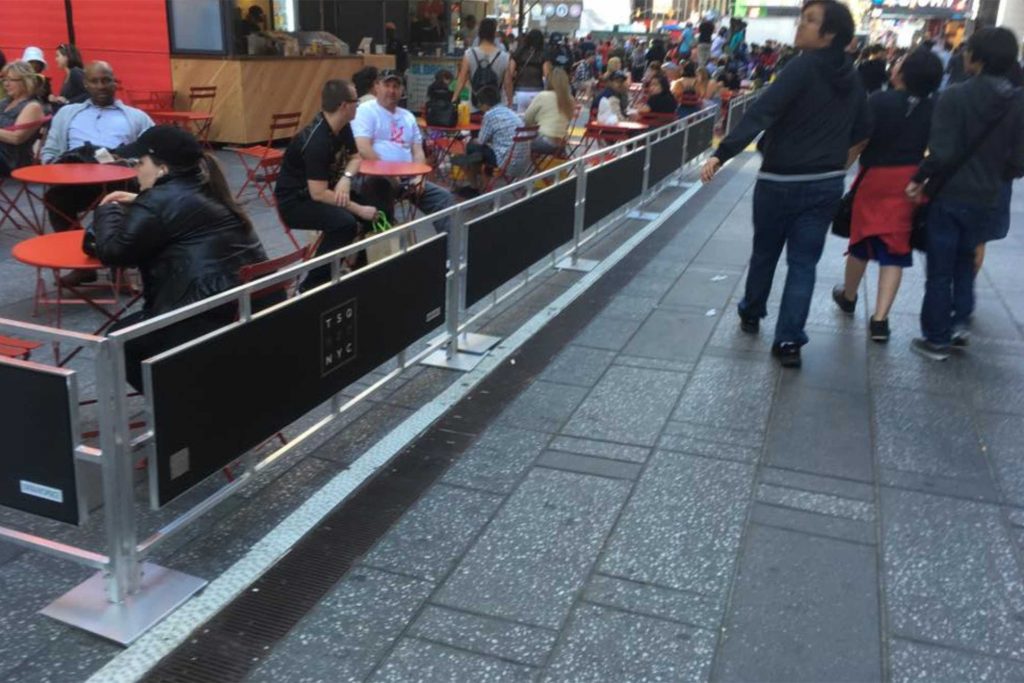 Contact New York City Sidewalk Barriers to discuss your event barricade needs today.
We can fabricate your barricades in the linear footage you need and ship them to you quickly. For those local to NYC, PA, NJ, and surrounding areas, we can deliver them and help set them up. Either way, they are simple to set up, extremely durable for both indoor and outdoor use, and highly versatile so you can use them year after year.  Contact us today to request a quote.
Event Barricade/ Crowd Control Barrier Styles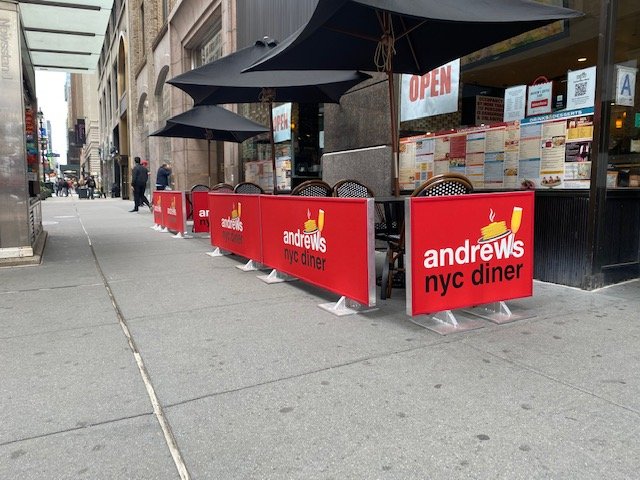 Style B "Full Fabric Panel"
Style C "Framed Fabric Panel"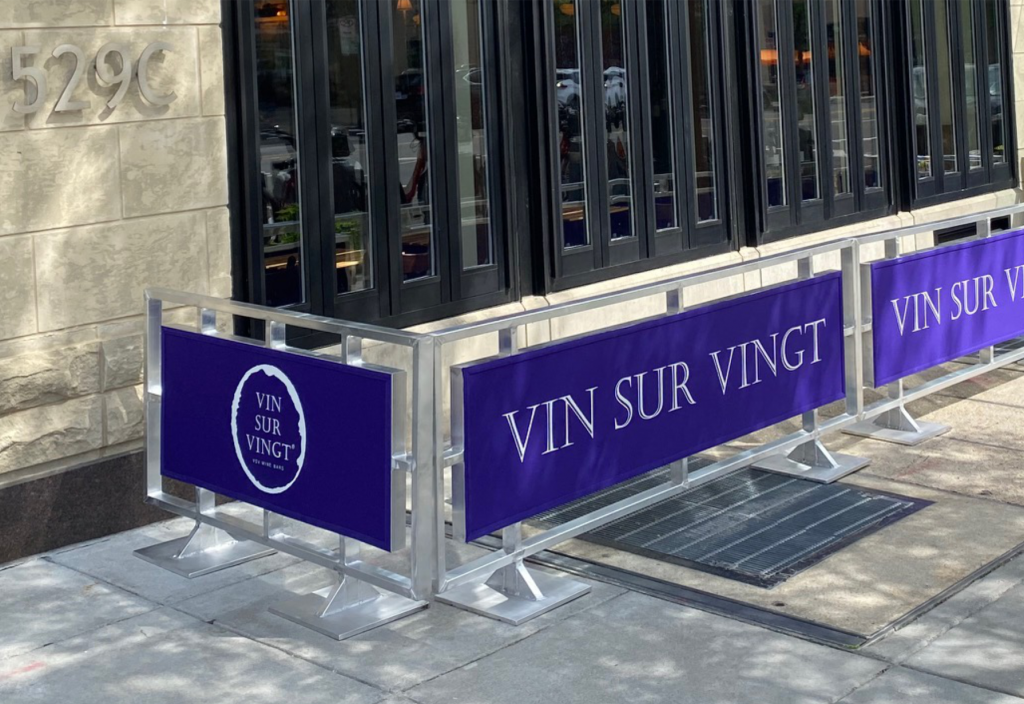 Style E "Open Rail with Panel"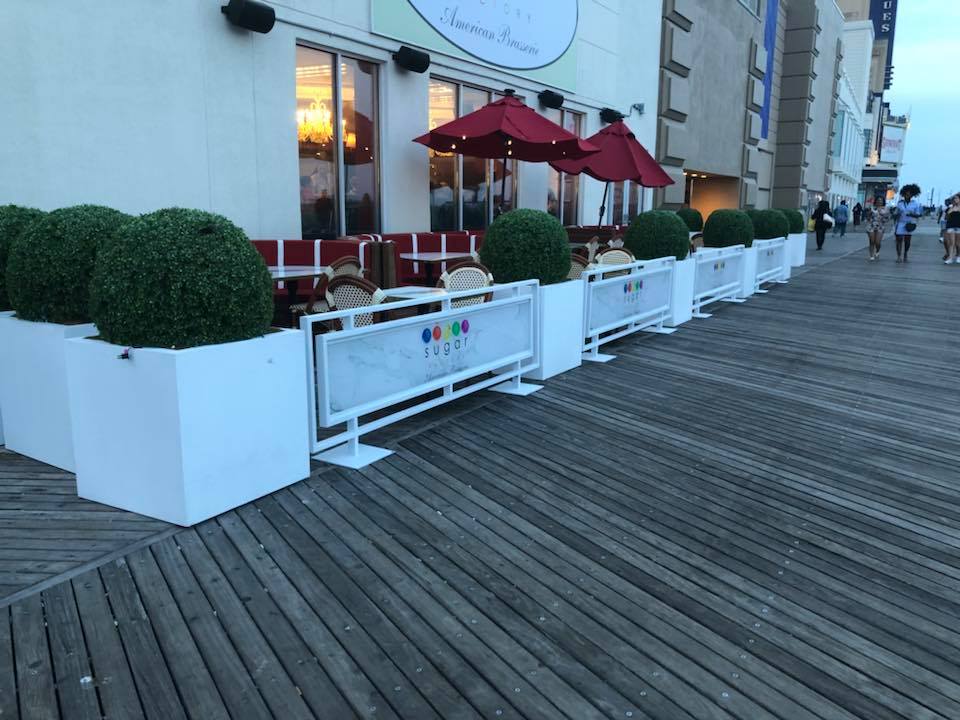 Style F "Framed Aluminum Panel"
Event Barricade/ Crowd Control Barrier Ordering Process
All of our barriers are custom-built just for you which means you can't just click a button and purchase generic products.  But the ordering process is simple and easy and our product quality far exceeds any prebuilt options.  We just need to know the style, length, color, and branding you desire and we can get started on your project ASAP.
Fill out our form or call and let us know the style, length, color and logo or text you want.
We'll get back to you with a mockup drawing and a quote for your custom barriers.
Make your payment and we'll fabricate and ship your barriers.  Allow 2-3 weeks for delivery. 
Your barriers will come assembled and ready to go.  All you have to do is set them up.  
What clients say about our Sidewalk Barriers
New York City Signs & Awnings has been servicing customers throughout the United States and Canada for over 30 years. Our satisfied clients repeatedly come back to us for all their sign, awning, and branded barrier needs.  
New York City signs and Awnings designed and fabricated custom restaurant barricades for one of the Restaurants in our companies open-plan Food Hall. From design to payment to delivery, the process was incredibly professional, fast, and very reasonably priced with quality workmanship. We look forward to working with this company in future endeavors and would recommend them to others in the hospitality industry.
excellent service!!! friendly honest very professional outstanding customer service reliable & efficient we will order from this company again thank you melanie @ Cosmic Diner