Outdoor Restaurant Patio Fencing
#1 sidewalk cafe & branded barrier company in the United states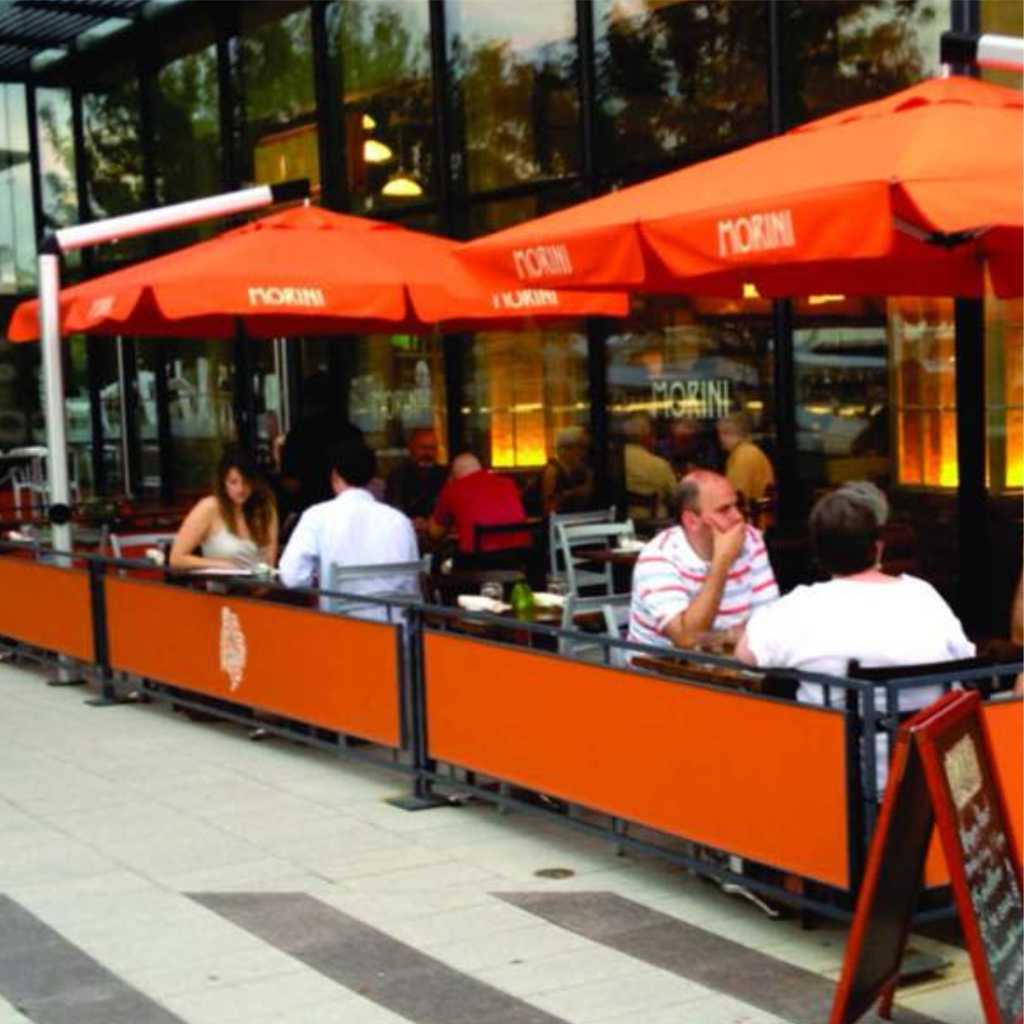 SIDEWALK BARRIERS FOR RESTAURANTS, CAFES, DINERS
Outdoor Restaurant Patio Fencing & Cafe Partitions
Al fresco dining is among one of the most popular ways for restaurant goers to enjoy a meal.  Nice weather, fresh air, and views of the surrounding area can make outdoor dining an experience that is both unique and memorable.  From intimate garden style patios to large city sidewalk cafe areas, there are endless possibilities to create your outdoor dining space that will entice diners to visit your establishment and to return week after week. One of the most important aspects of creating your outdoor dining space is finding a way to partition the space away from the surrounding areas so that it is safe and orderly, yet keeping the dining area visible to attract new guests and to maintain the views. The best way to define your space is with custom outdoor restaurant fencing and cafe partitions.  Also known as sidewalk barriers, these versatile temporary structures can be configured in any way to cordon off your space.  Branded barriers also present a unique opportunity to advertise your dining space from afar with increased visibility. Read on to learn more about these products. 
Restaurant fencing allows you to Clearly define boundaries for eating and drinking areas
Defining a safe space for your patrons to eat and drink not only helps to keep order to your service area, with defined entrances and exits, but it can also ensure that liquor laws are adhered to- a must for any restaurant serving alcohol. Outdoor Restaurant Fencing will keep your guests on your property and keep unwanted guests out. If passersby can easily enter the seating area they can more easily circumvent important measures like ID checks.  Also, those who are welcome guests who may be imbibing will be sure to stay within the defined zone if you place sidewalk barriers around your patio seating area.  If not defined guests may unknowingly wander off your property, potentially causing you hefty fines.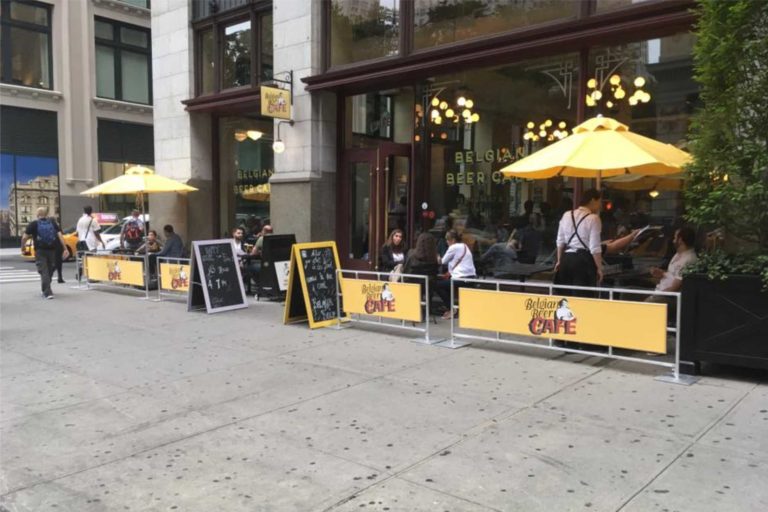 Cafe fencing Increases Outdoor Cafe Visibility for foot traffic and passersby
For many tourists, and even occasionally for locals, finding a spot to dine often entails walking around the city looking for the perfect place.  But how easily can you spot a restaurant or cafe from afar?  Not very easily unless there is very a visible  sidewalk sign or sidewalk cafe fence.  When people see an outdoor eating area while walking down a new street, they tend to gravitate towards that place to check it out. Advertising your al fresco dining to foot traffic and passersby is as simple as making it visible and welcoming. 
Create a Breeze Barrier to Maintain order in your Outdoor Restaurant or Cafe area with an alfresco dining Fence
The wind can reak havoc on an outdoor dining area.  City streets often turn into wind tunnels with debris and trash blowing up and down them, getting caught in any structure along the way.  An outdoor dining area or sidewalk cafe along a city street can be a magnet for trash and other items because they will stick to the chairs and tables if they aren't blocked somehow.  This is where a outdoor restaurant patio fencing can be a huge help.  The patio fencing will not only block outside trash and debris from your eating area, it will keep napkins and plastic cups, or other items that you want on the tables in their proper place.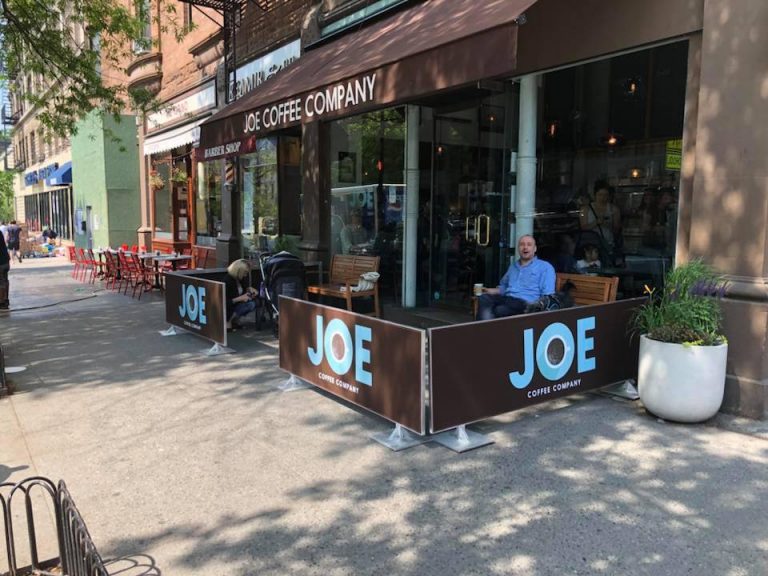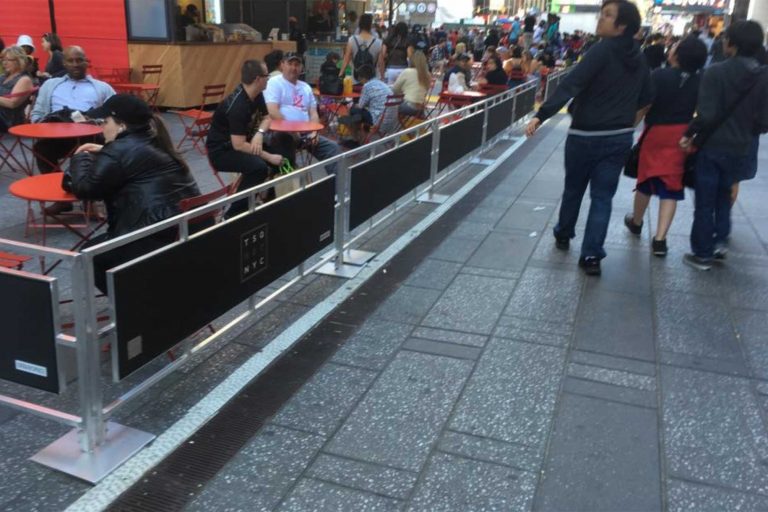 Keep your outdoor dining area patrons safe from passersby with Sidewalk Barriers
Bustling city streets can be great for business as the more people there are walking around your establishment, the more potential guests you have. However, sitting down to relax and enjoy a meal can be difficult when the people walking by are bumping into your table, stopping to sit at chairs or tables near you without having gone through the appropriate entrance, or just standing a little too close for comfort. Thieves can even target those sitting down to enjoy a coffee or a meal if they can sneak up behind a grab a purse or backpack easily. No one wants to enjoy a meal when they can't relax and feel safe.  Outdoor restaurant fencing makes your patrons feel just that- safe and protected from the hustle and bustle of the city.
Outdoor Restaurant Patio Fencing Styles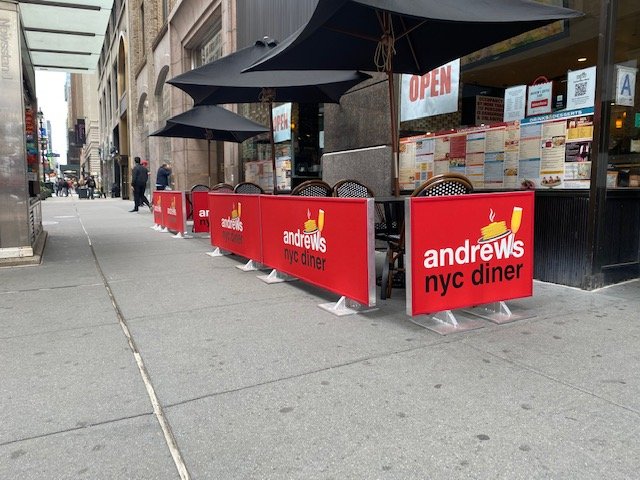 Style B "Full Fabric Panel"
Style C "Framed Fabric Panel"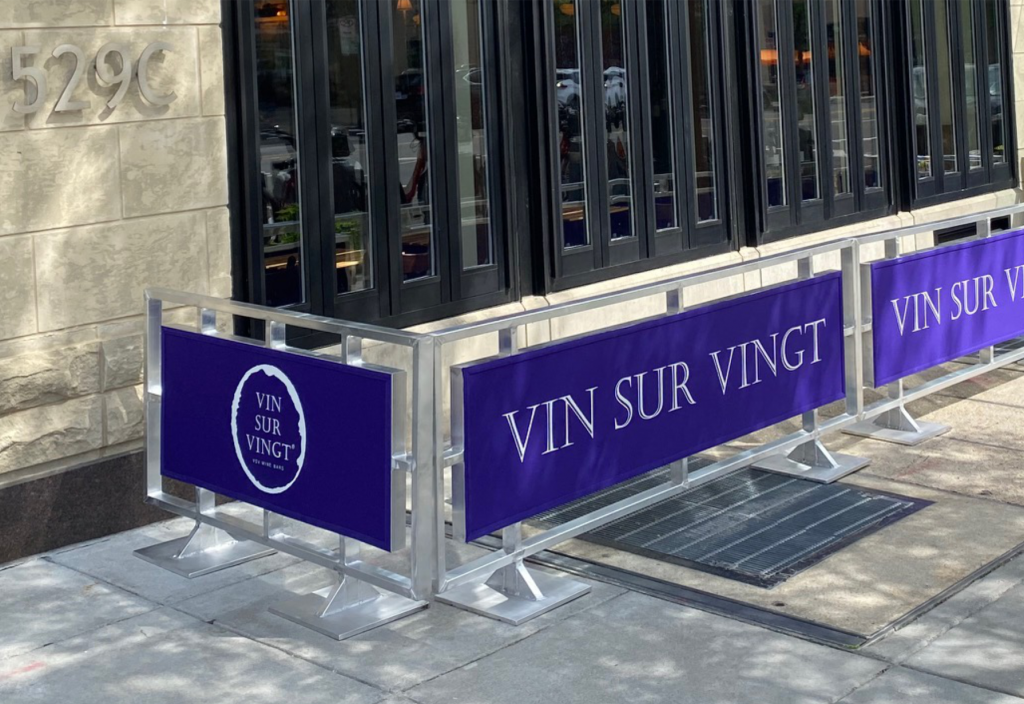 Style E "Open Rail with Panel"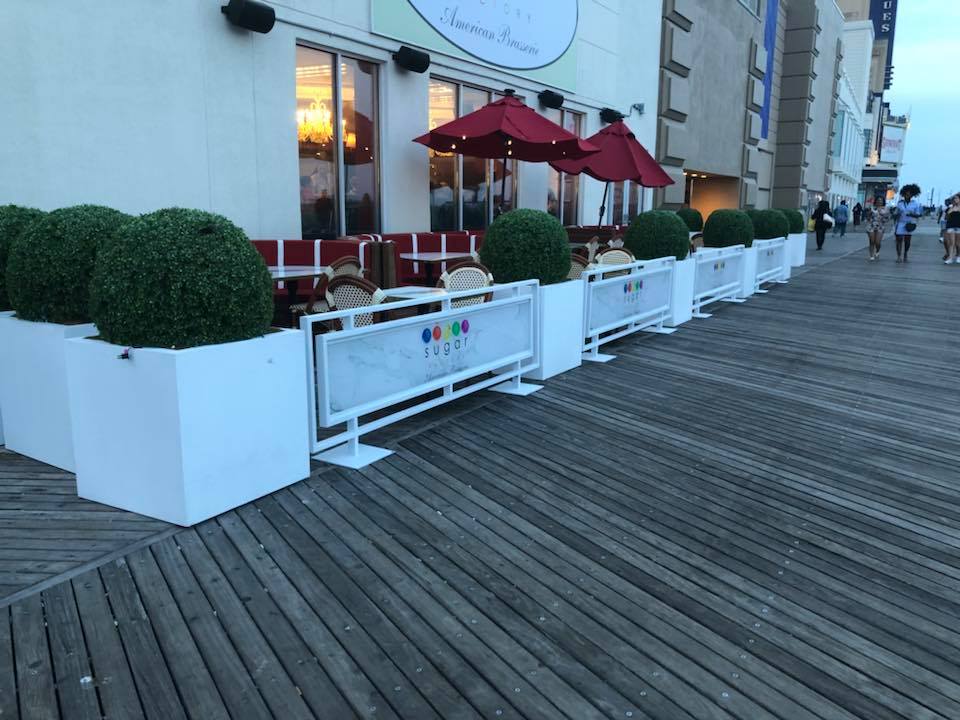 Style F "Framed Aluminum Panel"
Outdoor Restaurant Fencing Ordering Process
All of our barriers are custom-built just for you which means you can't just click a button and purchase generic products.  But the ordering process is simple and easy and our product quality far exceeds any prebuilt options.  We just need to know the style, length, color, and branding you desire and we can get started on your project ASAP.
Fill out our form or call and let us know the style, length, color and logo or text you want.
We'll get back to you with a mockup drawing and a quote for your custom barriers.
Make your payment and we'll fabricate and ship your barriers.  Allow 2-3 weeks for delivery. 
Your barriers will come assembled and ready to go.  All you have to do is set them up.  
What clients say about our outdoor restaurant fencing service
New York City Signs & Awnings has been servicing customers throughout the United States and Canada for over 30 years. Our satisfied clients repeatedly come back to us for all their sign, awning, and branded barrier needs.  
New York City signs and Awnings designed and fabricated custom restaurant barricades for one of the Restaurants in our companies open-plan Food Hall. From design to payment to delivery, the process was incredibly professional, fast, and very reasonably priced with quality workmanship. We look forward to working with this company in future endeavors and would recommend them to others in the hospitality industry.
excellent service!!! friendly honest very professional outstanding customer service reliable & efficient we will order from this company again thank you melanie @ Cosmic Diner